TECNO DELTA
TECNO DELTA, since 1970, has been developing, designing and manufacturing machine tools, automation and transfer systems to meet a large variety of requirements in the production of mechanical components .
The MISSION is to develop customized systems and machines to ensure the shortest pay-back time and provide a long-term economical results through high durability and a reliable after-sales service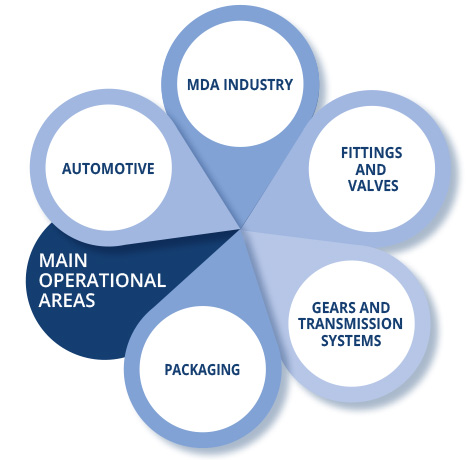 TECNO DELTA
"We meet your needs"
Macchine Utensili Tecno Delta born from a group of designers and technicians that, with the experience acquired in Alfa Romeo, began to design machine tools for the production of mechanical components for the automotive sector.
Born as design studio, M.U. Tecno Delta evolves into a complete tool machines manufacturer, taking care of the machines from project to product. Tecno Delta decides to focus its production on transfer machines for high volumes of production, customized in function of the customer's needs.
To satisfy the growing demand for flexibility, M.U. Tecno Delta began to use CNCs and new technologies to improve the quality of the machined parts.
To expand the production capacity M.U. Tecno Delta open a new production site located in southern Italy: Tecno Delta Sud-Bari.
The requests coming from the American market push M.U. Tecno Delta to expand the sales network in the United States, creating the TD USA sales & service.
Tecno Delta begins to equip the machines with automatic systems for the loading /unloading of the parts. In the following years the automation sector developed and becomes an important part of the production.
In 2011, the company relocated to the new building site in Saronno (VA) Increase of production area and offices provide to support: production, assembly, logistics and sales departments.
Tecno Delta expands the range of its products to open markets where production volumes are smaller and high technology is required, offering to customers automated processing cells, composed of Tecno Delta machines, machining centers or special standard machines of leading brands, interconnected with automatic loading and unloading systems.
The need of our customers to have performance control has required continuous development of dedicate sensors. These studies allowed Tecno Delta to reach the 4.0 specification.
To increment the production autonomy of its automatic cells, Tecno Delta introduced the bin picking systems guided by 3D vision devices.